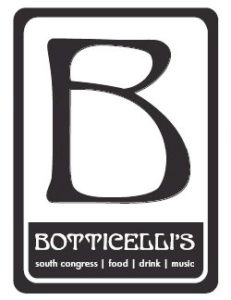 South Congress is one of the best areas in Austin to hang out day or night, and Hotel San Jose is one of the greatest places to start your experience.  The Hotel San Jose offers drinks, snacks and music in a beautiful courtyard. The Michelada is an iconic drink for Texas, and they have many local beers you can add, including Austin Beerworks.*
Tip: Private lot for parking. If you are visiting Austin, this is a great hotel to stay too.
Across the street from Hotel San Jose, sits an authentic Italian restaurant named Botticelli's.  This classic restaurant features intimate dining inside or a large patio Beer Garden outdoors with live music.  Consistently on Austinites top restaurant list with homemade antipasti, soup and pasta which is made daily.  November is a perfect month to try butternut squash stuffed ravioli topped with brown butter & sage sauce, called the Ravioli di Zucca Gialla or the Lasagna del Giorno is a sure winner every time.
Tip: Reservations can be made online or Open Table.  Beer Garden patio is pet friendly. Street parking available or inside garage behind Perlas/Hopdoddy. Open Sun-Wed 5pm-10pm, Thurs-Sun 5pm-11pm.

A few doors down, is a long standing dive favorite in Austin since 1957, the Continental Club.  If you are visiting or a local, this is an iconic place to listen to music which starts daily as early as 3PM, playing as late as 2AM. Ephraim Owens, a staple in the Austin music scene is a great show to catch.   Their website has the latest schedule.
Tip: $10 cover charge at door. Check out upstairs bar too.

All 3 venues are less than 100 feet from 1321 South Congress.