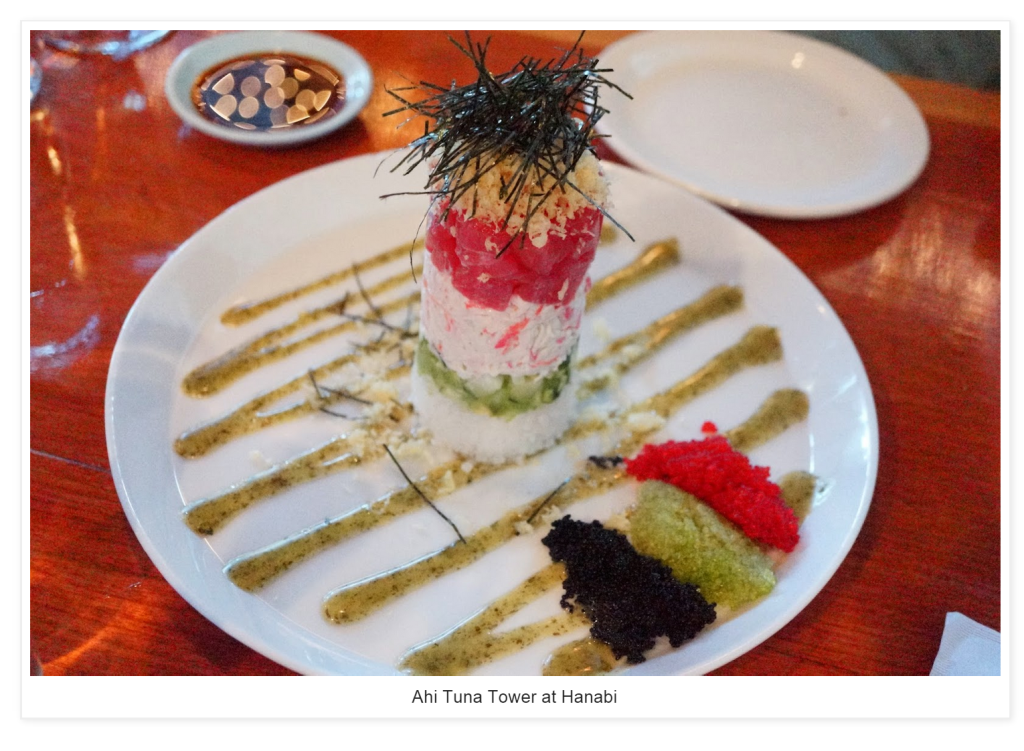 Photography, restaurant ranking, and content by Amy Drohen, Sushi in the ATX.
Hanabi has an extensive happy hour menu making it a dining hot spot in central Austin. Their executive chef is Chef Choo formerly the executive chef at Beluga, Osaka and Afin. Owners Sunny Kim and John Yoo are hands on and usually can be found greeting guests and working alongside their employees at the restaurant. The restaurant draws a large lunch and happy hour crowd so arrive early. The 72 hour miso salmon and the ahi tuna tower are two of their most popular menu items.
Tip: Dine in on a Thursdays and order the sushi sampler at its freshest. Hours: Tues-Fri 11am-2:30pm and 5pm-10pm, Sat 11:30am-10:30pm, Sun 11:30am-9:30pm. Closed Mondays.

After dinner at Hanabi enjoy the rest of the evening at The Goodnight, a great place to enjoy hours of fun on  a date night.  Bowling, Karoke, Shuffleboard and Pool are only a few choices for entertainment along with snacks, cocktails and desserts, including a Chocolate Fudge Cake with house smoked bacon.  Perfect.
TIP:  Open Mon&Tues 4pm-10pm, Wed&Thurs 4pm-12am, Fri 11am-2pm, Sat 4pm-2am, Sun 11am-10pm. Bowling and Karoke Reservations can be made online.

Both located within 1600 ft of 2525 West Anderson Lane.