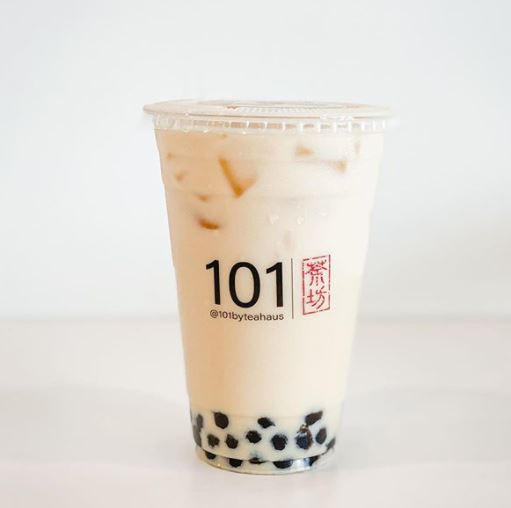 101 by Tea Haus gets the vote for the best Boba Tea…and also large portions of food for a great price.  What's not to love? When you're doing studying for your Biology 101 exam, come here for some relief.  Whether you're a fan of Korean, Japanese or Taiwanese, they have exactly you're craving for big, hearty burger and chicken sandwiches, Bowls, Tots and a variety of Bobas and Teas. Enjoy!!
TIP:  Open for Lunch and Dinner Daily for Dine In, Take Out & Delivery.

Top 20 College Picks:  Best Boba
Little Deli & Pizzeria is a New Jersey restaurant, locally owned and operated.  It's near 101 by Tea Haus, and worth a mention.  The difference between NJ and NY Pizza? It's technically the water, so I'm not sure if they bring in water from Jersey, but their meatball Pizza is a winner on this menu.  I mean, Meatballs plus Pizza…bonus! One of my favorite things about this pizza spot, is the availability to get a slice…and it's a slice of heaven.
TIP: Mon-Sat Lunch and Dinner for Dine-In, Carry Out and Delivery. Multiple locations.   

Top 20 Pizza 2020: Best Meatball Pizza
Lick Honest Ice Cream is a skip and jump away from Little Deli and is a perfect dessert after pizza. This local dessert shop wins the Best Artisan Ice Cream, using only pure, whole ingredients. Choices such as Texas Sheet Cake, Hill Country Honey & Vanilla Bean, and Texas au lait, all satisfy a desire for sweets while incorporating ethical farming. The dairy is all sourced from a family owned and operated Texas dairy farm with no added hormones or antibiotics for pure, natural ice cream.  Enjoy!
*Please note: Pizza Image from their Website.