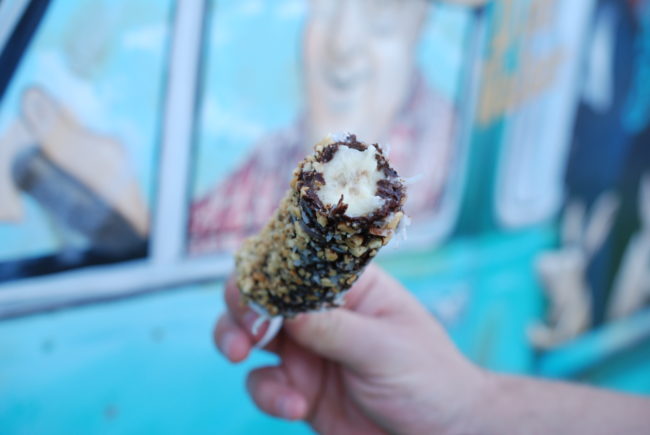 Bananarchy, a unique food truck, combines a frozen banana with a chocolate coating and an assortment of toppings. The banana can be customized to fit your preference, with add-ons such as coconut and Reese's Pieces. The banana core removes any guilt associated with enjoying such a decadent dessert, so go ahead and pile on those M&Ms.
Top 20 Frozen Treats 2017-2019
SOUTH FIRST FOOD COURT:
One of the most ecclectic Food Parks in Austin is where Bananarchy parks, South First Food Court. Cool, local Food Trucks are parked here among trees and picnic tables. With a huge wooden sign including iconic figures such as Leslie and Willie Nelson, this is the place to find random live music events, kids' birthday parties and horses with Tutu laden cowgirls…100% Authentic Austin. 
TIP:  Most Trailers open from March to end of October. 
 South First Food Court located at 603 W Live Oak St, South Austin.