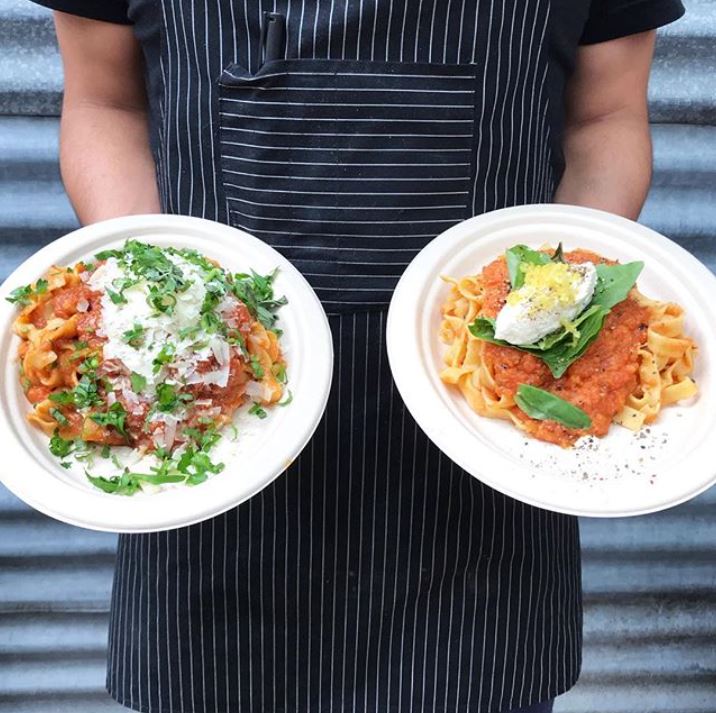 Patrizis is truly Authentic Austin…and what makes the foodie scene so magical in this city.  This food truck is parked behind The Vortex Theater, and it's one of the best family owned and operated, Italian spots in the entire city. With over 50 years of experience, Nic Patrizi brings delicious Italian food to Austin.  Enjoy a play next door at the Vortex, or enjoy cocktails and a cool, funky patio at the Butterfly Bar…and enjoy the East Side vibe.
TIP: Open for take out 4-9PM daily.  Order Online on their website. 
Butterfly Bar is bar of The Vortex, a casual East Austin hang out with an intimate bar and outside, funky patio.  Almost nightly, the bar has an event or live music to enjoy while drinking local beer, wine or specialty cocktails. 
TIP: Check website for latest hours and events.

Vortex is an Edgy and Quirky  theatre on the East Side.  The talented writers, actors, and actresses consistently bring productions to this intimate theatre which make audiences smile and laugh.  Their indoor theater is quaint and intimate, and they also have an outdoor stage for productions.
TIP:  Check website for updated events. 
*Please note: featured image is from Instagram
All venues within feet of each other on 1917 Manor Road, East Austin.