(Last Updated On: August 15, 2023)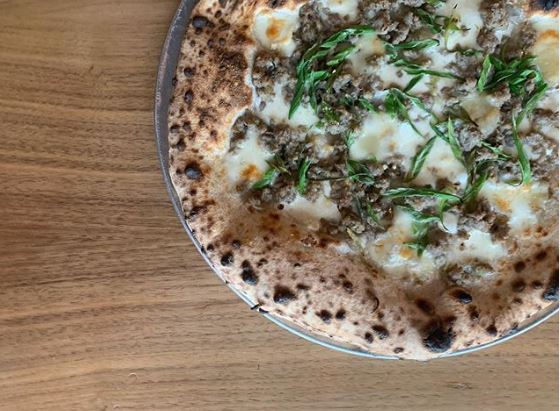 Bufalina Pizza feels like you've been transported to Italy.  A Wood Burning Oven in the corner, cozy communal tables and delicious food awaits at Bufalina Pizza.  Try the Bibb Salad, Marinara Pizza with fresh mozzarella and a local beer or well curated glass of wine for an amazing food experience. The owner, Steven Dilley is a wine lover, so this is the ideal spot for the perfect wine and pizza combo! 
TIP: Currently accepting takeout orders and reservations via Tock for Cesar Chavez and Burnet Road. Hours vary by location. 

The Volstead, is right down the street from Bufalina Pizza, and is a perfect lounge to continue the evening.  Intimate candle lit tables set the mood, and the Prohibition-Era cocktails will impress any date or group of friends.  DJs start at many Thursday, Friday and Saturday nights at 10pm.  Check Facebook page for updates.
TIP:  Food trailers on back patio.

Heywood Hotel is just a few steps away from Bufalina Pizza, and is one of the best boutique hotels in East Austin.  Whether visiting Austin or looking for a staycation here in Austin,  this hotel is an excellent place to stay.  They won the Conde Naste Best New Hotels in the World  and they continue to set a cool vibe with their modern, sophisticated and artsy style.
TIP: Reservations can be made online.   
All locations located within 600 feet of 1519 East Cesar Chevaz street, East Austin.